SAY NO TO THE HIGH WASTE AND ENDLESS COST OF SHORT-TERM, DISPOSABLE BABY PRODUCTS AND SAY YES TO MINIWARE!
What's the difference between Miniware and similar products in the market?

Miniware is a complete system for new self-feeders that grows with your child. The unique modern designs and clever accessories are long-lasting and eco-friendly – a win-win both for you and the environment! We've added many features to Miniware to make learning self-feeding easy, creating parent-approved designs for healthy childhood development. Miniware is also durable, able to stand up to enthusiastic eaters and suitable for indoor/outdoor use. The sturdy suction foot helps children safely learn to feed themselves, reduces spills and comes off easily when they are ready to advance. All our dishware products are either 100% plant-based or food-grade silicone and are microwave- and dishwasher-safe.
The only true stacking feeding set available, Miniware's modern designs and pleasing color palette make it the perfect addition to a beautiful and organized kitchen.
What is Miniware made of?

We use non-toxic, plant-based, all-natural materials to create our Miniware. Materials include: 100% food grade silicone/ heat pressed bamboo fiber/ all plant-based PLA/ natural Mao Bamboo/ 304 Stainless Steel.
Our suppliers meet both FDA (U.S. Federal Department of Agriculture) and LFGB [German food contact grade testing] standards. All finished products are tested to ensure the production process doesn't contain any heavy metals or chemical additives.
How earth-friendly is Miniware?
We start with renewable, fast-growing and low-impact plants such as cassava and bamboo as our main materials along with other natural, non-toxic resources such as silicone and stainless steel. Most importantly, Miniware products are composed of a single material, not a mixture allowing for easy end-of-life disposal.
Our production process does not add chemicals or heavy metals, allowing our products to easily and safely break down naturally without contamination.
Safe, non-toxic products create a microwave- and dishwasher-safe surface for healthy parents and children.
We place healthy families and a healthy earth first!
Why are Miniware dishes larger than other children's feeding systems?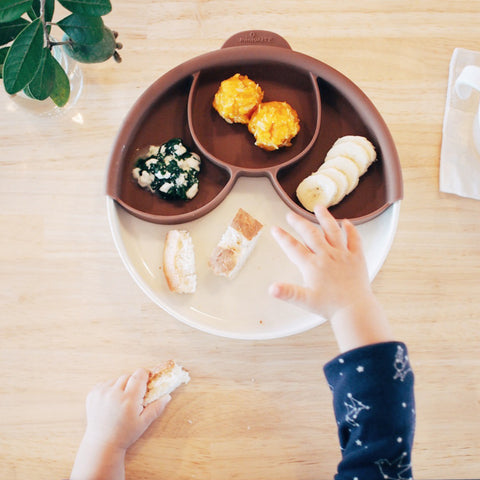 The extra space provided by Miniware gives new self-feeders plenty of room of maneuver with small fingers or eating utensils. The unique "easy-scoop" design of both bowls and accessories helps small children master the dexterity needed to develop proper eating skills. Small bowls create more mess and children quickly outgrow them. Miniware is appropriately sized for all ages from baby to adult. Perfect for the whole family!
Which Miniware products should i pick for my mini?
We recommend considering the age of your child when choosing the best Miniware pieces to start with.
For infants
we recommend the First Bites set which is perfect for puree and other soft starter foods. The included soft silicone spoon is a feeding utensil with an ergonomic shape and material designed to help practice bringing bites from the table to mouth. It's the perfect starter set for introducing very young children to the concepts and tools of self-feeding.
For children
who have already started with solid foods, we suggest our Little Foodie Sets which contain a sandwich plate, cereal bowl, suction foot, spoon and fork, and 1-2-3 Sip! cup; all the essentials for self-feeding with a generous price discount. Add-ons and accessories are available to add as your child or family grows.
When your child is ready to graduate to warmer and cooked foods, try the Sip & Snack set. The unique "easy-scoop" design and wide opening of the snack bowl make it easy for small fingers to spear and scoop while first learning to handle utensils. It also helps cool hot foods quickly. The included sippy cup with is perfect for helping babies and older children learn both basic and complex skills such as sucking, sipping, tipping and balance.
Older Children (18 Months to 3+)
will love the Healthy Meal set, especially picky eaters who don't like their foods touching! The set comes with a sandwich plate and removable silicone plate divider which makes composing balanced meals easy. The divider keeps even messy foods in their place, helping your child focus on the task of self-feeding.
Why should i use detachable suction foot?
There are 3 big reasons to use our popular suction foot:
Miniware can grow with your family. The suction foot creates a safe and stable environment for your little one to develop proper eating technique, then can be removed for a "grown-up" experience as skills improve.

The suction foot is designed to create a safe surface for new self-feeders and reduce the occurrence of spills and mess. No more knocked-over cups and bowls!

Our 100% silicone base is eco-friendly and recycled at the end of its lifespan.
Please follow the included instructions to properly attach the suction foot for best results.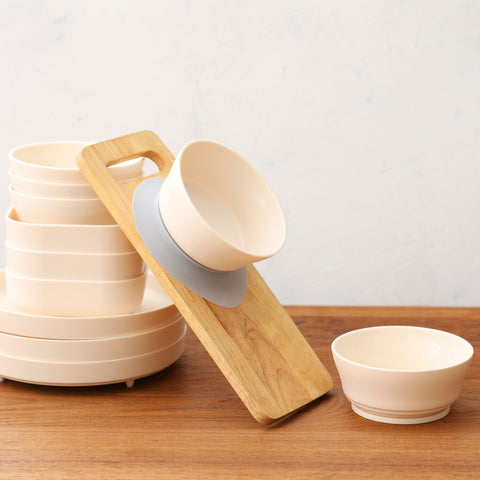 What type of surfaces does the Miniware suction foot stick to?
The Miniware suction foot works on coated wood, laminate, plastic, marble, glass or any smooth surface that will allow a strong seal between the silicone foot and table, tray or counter. For the best suction results rinse the suction foot before first use.
Please note: the suction foot works as a security measure to reduce mess and spills during the self-feeding learning process. Curious children may try to unlock the seal. Allow them to explore the base and they will eventually grow bored and begin to focus on the food.
What are Miniware's "Easy-Scoop" features?
Miniware is designed with a 90°-degree angle feature that provides a surface that makes scooping much easier for novice eaters! This subtle feature works great to help self-feeders develop adult eating techniques. Your little one will be able to seamlessly transition to adult dishware when the time comes.
We suggest that you start new feeders off with the Miniware Teething Spoon (link). The soft surface works great with 90°-degree edge so your baby can begin practicing scooping with soft puree and use the spoon as a natural teether at the same time!
Is Miniware microwar-safe?
Yes, according to these instructions: make sure to fill cup/bowl etc at least 3/4 or more, set to medium heat or lower and heat for no longer than a minute. Usage at higher temperatures and/or longer than a minute may cause permanent damage to your Miniware!
We recommend microwaving food in another container before using Miniware to feed young children, this helps ensure food is cooled and avoids burning a child's mouth.
Our food-grade silicone products are perfect for use in the microwave.
Stainless steel products are not microwave-safe.
How do i care for my Miniware?
Miniware is safe to clean in the dishwasher. Avoid using the heated dry feature if your dishwasher has one to extend the life of your product. We recommend wiping after washing and then drying in open air. If washing by hand, a regular soft sponge is best as the product surface can become scratched with a rough scrub sponge. Steel wool is not recommended. Rinse before first use.